Before you can answer if balayage is best for you, first you must ask yourself another question … what is balayage?
Ba۰lay۰age
a technique for highlighting hair in which the dye is painted on in such a way as to create a graduated, natural-looking effect.
Balayage refers to the technique in which the color is applied, not the color itself. A typical balayage is "painted" onto the surface of the hair strand to ensure a smooth, blended stroke of color.
If you highlight your hair, you already know those lively streaks of light can elevate your mood faster than a double shot of espresso. If you don't, you're in for a treat. Balayage highlights make it seem as though the sun is shining directly on your head, which is indeed the exact effect a skilled hair colorist can achieve.
Here are five good reasons to book an appointment for balayage highlights pronto!
They're easy on your hair.
When it comes to balayage, a little goes a long way. Rather than all over hair color, your colorist will strategically place hand-painted hair lightener or color on areas of your hair that will instantly brighten & enhance your natural hair color and complexion. A handful of balayage highlights along your hairline, through the top of your head, and around your face can instantly transform your hair color with minimal impact on your hair.
They're versatile.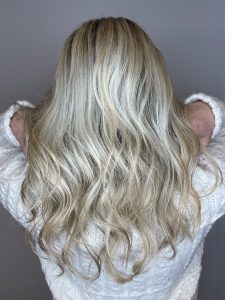 Hair stylists have many, many tricks for highlighting your hair, and they can change your hair color in several ways. For example, they may opt for a combination of fine foil highlights and heavier balayage highlights, or they may concentrate the hair color around your face, or in the key sections of your short haircut (like on the longer, top sections.) They may use one hair color, or they may mix up several hair colors for a super subtle and natural-looking result. For example, a natural chestnut hair color can be elevated/transformed with cherry, honey, or copper highlights.
They're economical.
Because balayage highlights are such a natural-looking approach to hair color, often designed to mimic the shimmering effect of a summer spent at the beach, you can allow them to grow out naturally, without frequent hair touch-ups. Some balayage highlights may only need touching up two-to-four times a year. When you're ready, you can either touch up the highlights you already have, or change things up with new highlights, different hair colors, or a different placement pattern in your hair.
They can make your fine hair look and feel thicker.
Balayage highlights give the illusion of fullness as they add dimension to your overall hair color. And because hair lightener causes the surface of the hair shaft to expand in order to allow the formula to penetrate, highlights will increase the diameter of your hair, making it slightly heavier overall.
They're the frosting on the hair color cake.
Even if you're already coloring your hair—to cover grey, for example—balayage highlights add an exciting new dimension and a sparkling new element to your hair color. Highlights make hair color look much more natural and realistic, because if you look closely at any hair color, you'll see that it's not just a single shade, but rather a combination of highlights and lowlights. Keep in mind—this type of color design requires experience and know-how, and is best left to a professional hair stylist, who will know how to use the most flattering and complementary hair colors and placement.
Think you're ready for balayage highlights? Slow down! Here are a few do's and don'ts to ponder.
DON'T get highlights that are placed too close together.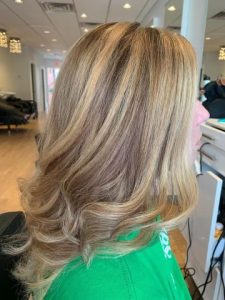 Before long, you'll lose contrast resulting in a solid, un-natural looking hair color that will require frequent touchups.
DON'T use too many colors.
While highlights and lowlights can make any hair color look gorgeous, too many different colors may have the opposite effect. Highlights should look natural and adding layer upon layer of color may have a tacky look.
DON'T use colors that are too light for you.
This will give a harsh contrast to your base color and will stand out (but not in a good way), especially if your hair is dark. Extremely light highlights on dark hair will look streaky, adding to an un-natural appearance.
DO choose highlights that are no more than two-to-four shades lighter than your natural or base color.
Anything lighter will take on a cartoonish, stripe-y effect—think Cruella DeVille ! (Unless that's the look you're going for) However, it's your party! We are happy to provide you with an amazing, custom color service of your choice!
DO let a professional do the job.
Color specialists know exactly how to choose the hair color shades and highlight placement to best enhance your complexion and your haircut. They'll also work with the best products for your hair. Sticking with salon highlights minimizes the odds of tragic, DIY hair color mishaps, which can be expensive to fix in the long run.
DO request the addition of a bond enhancer in your hair color formula.
Even though you only need a minimal amount of balayage highlights to make a big impact, your hair stylist is still applying a hair lightener that chemically alters your hair structure. New bond
repair additives will protect the bonds of your hair from damage during the highlighting process and will prevent additional damage from occurring. The balayage experts at Salon De Cinzia utilize some of the best bond enhancers in the industry.
DO care for your highlighted hair at home.
Make the most of your hair color investment by keeping your hair lively and shiny with the right home maintenance. To help make your hair dazzle, ask your stylist for recommendations of the best at-home shampoos, conditioners and sulfate-free hair products. The right professional, home hair care products prevent hair from becoming overly porous, which can lead to premature color fading and a dull-looking mane!
If you made it this far, NOW you're ready to get balayage'd! Let the creative and expert Goldwell colorists at Salon De Cinzia give your locks that beautiful color you've been waiting for! We've created the Beautiful Balayage new client offer. Includes a beautiful balayage, haircut & blow-out, and toner (if necessary). All for $189! Not ready to jump on the balayage bandwagon yet? Substitute a full or partial foil instead.